warning – long post! our longest stop! *
We just wrapped up our 7+ weeks in Paris and are on our way to Bergen, Norway! Seven weeks in one place – especially with all the activities we crammed in – was a luxuriously long time but there's no way one post can capture all the things we loved about being in Paris.

To start off – we both LOVED our time in Paris. Sure, there were things we did, ate or saw that were just ok but the experience of living there in our cute little apartment, settling into our local haunts and exploring as much as possible made it one of the most incredible overall experiences we've had so far.

Our Apartment and Neighborhood – Living like Locals
Choosing our apartment in Paris was one of the decisions we struggled with most during our trip planning…we knew we wanted to try to "live like locals"…in a part of Paris that had things to do, places to eat, markets, etc. but in an area that wasn't overrun by tourists and the prices that follow them. We have nothing against those touristy areas – in 2015 we were in Paris for part of our honeymoon, in an area that was a little more touristy (hello 15 minutes to Eiffel Tower!). However, we really wanted to at least attempt in those 7 weeks we had planned for Paris, to get in rhythm with the life of the neighborhood around us. Wait in line with the locals for bread, pick over produce, and have the cafes recognize us as regulars not passing dollar signs.

We were really excited about this place (found on Airbnb!) once we booked it and it did not disappoint – we LOVED nearly every detail about this apartment. The floor to ceiling windows that opened onto our 5th floor balcony were open almost every day with the wispy, sheer white curtains blowing in the breeze. Sometimes in the evenings, we stayed home for dinner and relaxation just because we liked the apartment so much. We could write an entire post just about our apartment (maybe we should?), but for now, suffice it to say it was what we hoped for…and as cliche as it sounds, it was better than we'd hoped for. Elizabeth got to cook with local ingredients, after which we would eat on our balcony looking over Notre Dame and listening to the sounds of daily life in Paris below us.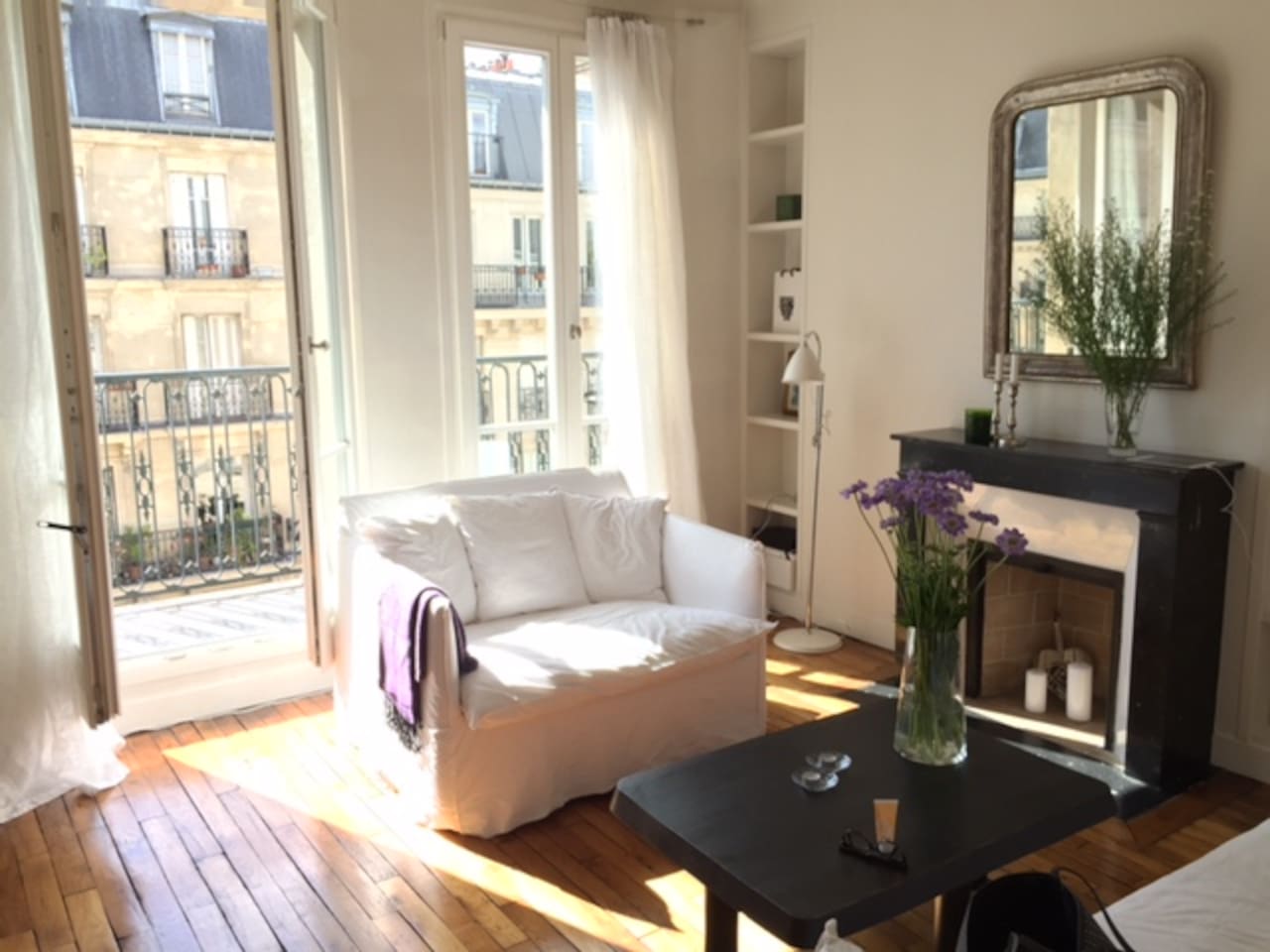 In case the apartment wasn't enough of a draw to this area, one of the main reasons we settled on it was its proximity (a block and a half) to the Jardin des Plantes. As mentioned above, we had both visited Paris before but neither of us had ever even heard of this garden. The garden was so beautiful and grand that we probably ended up walking through there or staying for a visit, picnic, etc. twice a week. We kept discovering more and more to see and do – from the rows upon rows of beautiful poppies to the natural history museum full of all the skeletons you could imagine!
As we tried to live like locals, this turned into finding what we considered to be our "spots." Spots that sometimes defied our preconceived notions of what it meant to live locally in Paris. A great local cafe owned and operated by an Asian family or the Lebanese place we were drawn to for our first meal in Paris. We also had those "spots" that were so clearly Parisian that we both felt a sense of sadness when we left these places. Not because "vacation was over," but because these places, the people operating them and the customers who frequented them became a part of the fabric of our day-to-day life in Paris.
The neighborhood market, open three times a week, was a constant source of the freshest produce, delicious Greek food, pungent cheeses and flavorful meats. I planned many of our lunches, dinners and picnics around what produce was in season and it never disappointed! On the same block we lived, we found our favorite bakery – after weighing all my options and eating all of the croissants I could locate in the city, we really lucked out that *the* best one was literally just downstairs from our front door. We would also drop by to pickup a fresh baguette for dinner or for a picnic 3-4 times a week…I could go on and on about shopping like a local – needless to say, I got SPOILED shopping in Paris for the most fresh, high quality ingredients and I will miss it dearly when we get home. Back home, it's not quite as easy to walk down the block to your local butcher, purchase an incredible fresh and flavorful beef roast and have the only-French-speaking butcher patiently explain to you exactly how to prepare and cook it. That's Paris magic.

Lastly, worth noting on this front…for those that don't know, I studied French from 6th grade through the end of college and was a French major for 3 of my 4 years of college…I was excited to try to get back to speaking and understanding it but it was tougher than I hoped! Who remembers the word for zucchini when they're under pressure to choose produce at the market? Courgette?? Not logical. Luckily, we were there long enough and dealt with mostly patient shopkeepers who appreciated the attempts to speak their language – and the language came back to me more and more every day which was fun. Nick speaks almost no French but by the end of his trip, he had picked up a LOT of the vocabulary, phrases, etc. and it was actually really impressive for someone who didn't study the language at all!

(All of the) Eating & (All of the) Drinking
Nick and I decided it would be fun to reflect on the incredible food we've had in 7 weeks here and choose our "top 5" foods (if we could) – not surprisingly, we had a few overlaps but here's what we decided on! These are in no particular order…

Elizabeth's Top Five
French onion soup from La Jacobine
This French onion soup was truly life-changing. One of those moments where you dip your spoon through the hot, melty cheese and into the dark brown broth and you can already see and smell the layers of flavor. Nick and I went to Jacobine for dinner for our anniversary and were both left practically speechless by this soup. It was rich in flavor, perfectly balanced and truly, the perfect bowl of soup. You guys. We went back to Jacobine for this soup a total of 3 times in less than 3 weeks. It was that good.
Coq au Vin from La Jacobine
Yes, two of my choices were from the same place…this chicken was melt-off-the-bone tender and the sauce it was cooked and served in was so good I wanted to ask for an entire baguette on the side to dip in it. Please, if you ever go to Paris, eat at this place.
Croissants from the corner bakery (Maison Gregoire)
THE best croissant I tried (and tried and tried and tried…) in Paris in 7 weeks. The perfect balance of flaky crunch and buttery moistness. Croissants in the U.S. will never be the same.
Cheese fries from Contrescarpe
We had these one of our first nights in our neighborhood and this cafe quickly became "our spot" – any evening we didn't know what we wanted to do, we ended up here. These cheese fries were perfectly crisped fries covered in a parmesan truffle sauce. The pictures and description can't really do them justice but they were so. Good. We probably had these…once a week? And maybe 2 or 3 times in our last week!!
Pistachio penne with pancetta at Racina
I had this the first time (of my 3 times) with my girlfriends when they came to visit and Allie was the smart one who had picked this dish so I only got to steal a few bites. It was a perfectly cooked penne pasta with a cream sauce, lots of crushed pistachios and wonderfully crisped pancetta. Allie has already found us what appears to be a replica recipe and we all have our fingers crossed we can attempt to replicate just a touch of that magic 🙂
Nick's Top Five
As a quick note to start, since my list varies slightly from Elizabeth's approach. It is hard for me to separate the "food" from the "experience." Great food, but the service was overly fussy or ignored us completely? It won't get a good review. Impeccable service, but served microwaved frozen pizza? You get the idea. I'm more of a holistic consumer of foods – it's served with a purpose, the quality of the service and food match (in either direction!), as Elizabeth calls it a "smorgasbord" of whatever we have in the refrigerator to share amongst friends. What made my Top 5 list were mostly the full package, with one notable exception.

Elizabeth's "veggie night"
Early on during our time in Paris, Elizabeth found a fresh produce stand at the local market that never failed us in delivering high quality ingredients at an absurdly low price. One night she cooked roasted carrots with…olive oil and herbs? Something. Another night was caramelized garlic on roasted french green beans.  Still another was laying camembert on slabs of roasted eggplant. One night while planning meals for the week I requested just that — all of her best veggie dishes that she had cooked thus far. So one beautifully, glutinous night we had soft roasted carrots with sea salt, eggplant with camembert, mushroom cream sauce, green beans and garlic, and roasted asparagus.  This is still my #1 choice of meals in Paris. And not "because my wife cooked it." It was a home cooked meal, made with fresh local vegetables, cooked in our Parisian apartment as the breeze fluttered in the windows, and consumed on our porch with fresh local flowers. For me, you can't beat that.
Foyer de la Madeleine
This was my choice more as the overall experience of the meal than any one particular dish (though they were all good!) This was a local's spot that Elizabeth came across in a passing comment in a random guidebook. From that one little blurb and Elizabeth's trip-planning-acumen we found Foyer. Foyer de la Madeleine was a started-stopped-started again church touched by kings and Emperors (looking at you Napoleon I and III). The Foyer is in the subterranean level of the church porch, of Eglise de la Madeleine – and run entirely by volunteers. You pay 7 euros for a "membership" card per year – worth every penny – and then it's a flat 9 euros for a three-course meal, similar to what you see as the "formule" at almost all French cafes and restaurants. We went no fewer than 5 times and never had a bad dish – most importantly, the first course was always a choice between 1) a soup and 2) a cold salad-type dish. We chose the soup every time and it was some of the creamiest, richest soup we had – and different every time! This choice is all about the experience though. Turn to your left and there is a group of 4 older French women, dressed-to-the-nines – to your right, a group of construction workers still in all their gear, taking a quick lunch break. We knew we had stumbled across something good and we couldn't stop going back! We were surrounded by locals, in the basement of a grand old church, eating the meals of the church volunteers favorite meals like blood sausage.
Cheese fries from Contrescarpe
See above description! I will also add that part of these Cheese fries at Contrescarpe were because of the environment. I am not necessarily one who enjoys going out – especially to crowded bars or overly stuffy restaurants. The cafe culture in Paris changed my mind on what that could. We had cheese fries at noon, at 6pm, at midnight and all other times of day. Each time, sitting in Place de la Contrescarpe, we would watch accordion players in shiny suits, first dates going well or imploding, and gaggles of kids saunter by and old men smoking while reading a threadbare paperback.


French onion soup from La Jacobine
See above re: foodie-life-changing.


Meringue cakes
Ok. So, meringue cakes. Remember how I said "food consumption is either strictly utilitarian or a holistic approach? Meringue cakes were pure pleasure. A small cake of freshly made meringue "glued" to the top of a larger meringue cake with icing. The whole thing is then wrapped in a layer of cake frosting. THAT layer is then covered in another layer of some yummy topping such as crunchy crushed hazelnut or flaked white chocolate. That combination of cake frosting on meringue makes something special happen. The meringue, once crunchy is now made *mostly* soft by the frosting, with just enough crunch left over to not make the dessert overpoweringly sweet. Pure pleasure.
The Wine + Cocktails
So…the wine. I'm a big fan of wine back home but I had no idea how spoiled I would be in Paris. Forget the fancy restaurants and the $10-15 glasses of wine back home. Our first day, just for fun, we bought a few bottles of red wine at the grocery store ranging from 3-6 euros (which was almost comically cheap to us) and were SHOCKED at how much better even the grocery store wine was than "nice" bottles back in the U.S. Going out, it took a while to figure out that you don't always just order "a glass" or "a bottle" – you order 14cl, 22 cl, maybe a "carafe" of 50cl or a bottle. And each place was slightly different. But the quality of the house, table wines at literally every place we went – from the dive bars to the nicer restaurants – was incredible. Nicks preference in alcohol changes as he gets "into" discovering what makes the best possible drink for his own palate. He spent months testing different gin's, vodka's, and vermouth's, different ways of mixing the ingredients and different garnishes to decide exactly what tasted like the best martini to him.
So, currently, Nick has been on a beer kick recently (pretty terrible timing by his own admission since.. we're in the country of wine!)  He was very disappointed that the prices of beer are much higher in France than back home – and while they aren't offering the American classics like Miller Lite or Budweiser, 10 euros for a pint of French or Belgian beer is a lot…especially when wine costs less than 10 euros for an entire carafe. Paris is much more the wine scene than the beer or cocktail scene but some of our tour guides confirmed that both beer and cocktails are on the rise in popularity in the city.
We visited one cocktail bar – Bisou, in the Marais – that blew our socks off but otherwise didn't really have any "special" cocktails. Bisou is absolutely worth a visit if you're there – it has no menu, the wait staff simply come over and says "tell me what type of drink you want" and you give some adjectives and maybe what type of liquor you want in it. We went twice, had two cocktails a piece and loved every single one of them.
Needless to say…we consumed a LOT of good food (and booze) while we were in Paris and are definitely feeling the effects on our bodies!!

Visitors!!!
We were so grateful to have two sets of visitors on this leg of our journey! First was Elizabeth's friend Rachel with her friend Allie! We had a great time showing them our favorite parts of Paris before the three girls left on the train for Barcelona to meet another friend, Amanda.
We also had the privilege of hosting Nick's brother, Rich, as an early birthday present for his 40th birthday! We showed him every single thing we could in Paris and then did an overnight trip to Amsterdam. It was Rich's first trip overseas and I think we probably walked an average of 10+ miles a day looking at the sights and exploring a small fraction of what Paris has to offer.

Just a Few of the "Paris" Stops
It's impossible to list all the places we went in Paris. Everybody has their own "thing" they loved and want to share with everyone. So just a few that we enjoyed…
Eiffel Tower:
Totally a tourist stop, totally the Parisian stereotype…but for good reason. It really is magnificent. Whether you're looking at it from the end of the Champs de Mars, from the other side of the Seine at the Trocadero Gardens, or from a random street corner in an adjacent neighborhood, just peeking around a building, Eiffel is beautiful. At Nick's amazing suggestion, we visited the Montparnasse Tower in another part of the city that had an observation deck on the 59th floor that provided breathtaking views of Eiffel. Every time we visited or came across Eiffel, it did not disappoint.
Notre Dame
About a week after we got to Paris, Nick was sitting on our balcony and called into me "does that look like smoke coming from Notre Dame?" The rest is a very sad history and we couldn't believe we just sat on our balcony watching with the rest of Paris and the world as half of it burned down. It's still a beautiful, timeless building and we were grateful to have visited the interior prior to this trip.
Before:
From our balcony during:
Luxembourg Gardens
Built by Catherine de Medicis many moons ago to make herself feel better after her husband was assassinated, this enormous and ornate garden in the middle of the city really transports you back to a different time. It's a beautiful place for a midday picnic, reading a book or just wandering.
Le Marais
One of the "cool" neighborhoods in Paris, just across the Seine from Notre Dame.  Just a neat place to explore shopping, quirky bars and cafes and some beautiful scenery.
Catacombs
I went here with Rachel and Allie during their visit and it was fascinating – you take 130+ steps down into what feels like the abyss of Paris and then walk through dark, lime hallways where the skeletons of 6 MILLION people were initially placed due to cemetery overcrowding but are now displayed in a very eerie yet beautiful arrangement.
Side Excursions!
Though we recognize we could have done a LOT more in the way of side trips and excursions, we decided the ones we did take were all we wanted. One of our biggest mantras going into this trip is to travel how and where we want to travel, not just how and where we felt we should travel. We also knew that on a 35 week trip (8.5 weeks in!) we need to take the opportunities we can to enjoy relaxing so we don't wear ourselves out too quickly.
Elizabeth's girls' trip to Barcelona
I went to Barcelona for 5 days with the girls on the train and we had an exhaustingly fun-filled time! We did a guided tour of Sagrada Familia (do this. Just go here), a bike tour of the city and its main attractions, ate a lot of "jamon y queso," drank a lot of sangria and cava and wandered along the Mediterranean. I was lucky enough that my friend Stef had an overlap of one night in Barcelona on her own world adventure so we explored even more parts of the city together!! The paella making class (+ fresh made sangria) was one of the highlights!!
Day trip to visit Nick's old buddy from high school in Lille, France – just next to the border with Belgium!

After over 15 years of not seeing this particular friend, Nick realized we were only a short hour train ride away from one of his oldest friends. So we took a quick trip to Lille, had lunch, caught up, and walked around the gorgeous town!

Day trip to Versailles
We decided to book this as a bike tour through Fat Tire Tours – we met them in Paris then took the train into the town of Versailles where we picked up bikes at their shop. We couldn't have asked for nicer weather – a bit brisk in the morning but warming up to a beautiful, sunny day! After exploring the town's local markets and picking up picnic supplies, we biked the grounds of Versailles
Day trip to Epernay (the champagne region!)
We knew this was a *must do* during our trip and even though it was a Sunday, kind of overcast and not "high season," it did not disappoint. We heard that Epernay and Reims were the two towns to go to and that they were comparable to Sonoma and Napa, respectively, so we chose Epernay. The town itself is very cute – full of local shops, cafes, etc. – but it is entirely run by the champagne business. There's literally the "Avenue de Champagne" on which all the champagne houses are located. We visited Mercier, Boizel, Paul-Etienne Saint Germain (our favorite but not distributed in the U.S. other than in Michelin restaurants, ugh!), Moet & Chandon, and a local cooperative where we could try smaller champagne makers' selections. Seeing the enormous underground storage and learning about the history at each of these champagne houses was a wonderful way to spend the day.
Overnight trip to Amsterdam with Nick's brother
Nick went to Amsterdam for part of his bachelor party and knew he wanted to go back – so we decided to take Rich with us! We spent two days exploring the city, its beautiful canals, endless bikes and local delicacies. We also – most importantly – went to the Keukenhof Gardens which were, hands down, the most extensive and beautiful gardens we've seen. If you're in Amsterdam during their "season" (March to May) – GO HERE.
There really isn't a way to sum up how special we thought our time in Paris was – from things we didn't expect to love (walk up coffees at bars, cafe culture as often as possible and all the green space in the city we could find) to the things we knew we would (croissants, the Eiffel Tower, and good wine). Our adventure is finally starting to feel "real" now that we've been away from the U.S. so long – we miss Philly, we miss our families and friends but we are loving our adventure!!! Stay in touch everybody – Norway, Prague and Krakow are next!!